Today I attended IIS2017. I actually attempted to volunteer event and was invited for event. I offered to volunteer. Received multiple calls in last 2 weeks, sharing my contact person and also inquired for any additional support needed, a meticulous follow-up. Gave me a surpise element for me wth question "why attention to person who offered to volunteer?".( got answered too).
With a sense of wonder, I reached  Park Plaza,Marthahalli around 8 AM. I saw  a lot of specially enabled children and audience. Two people I recognized were  Carnatic musician T M Krishna(aware of olcott kuppam ) and Feroze (follow his Twitter)
Krishna apologized for delay, started with tamil song on love and moved to Bengali song and to Hindi song. In between songs, Krishna was was sharing his own inner questions.
Can we look at "inclusion" as " not excluding". Who gave us right to include or exclude other?
why gender is looked within context of other divisions in society? Should gender be looked first?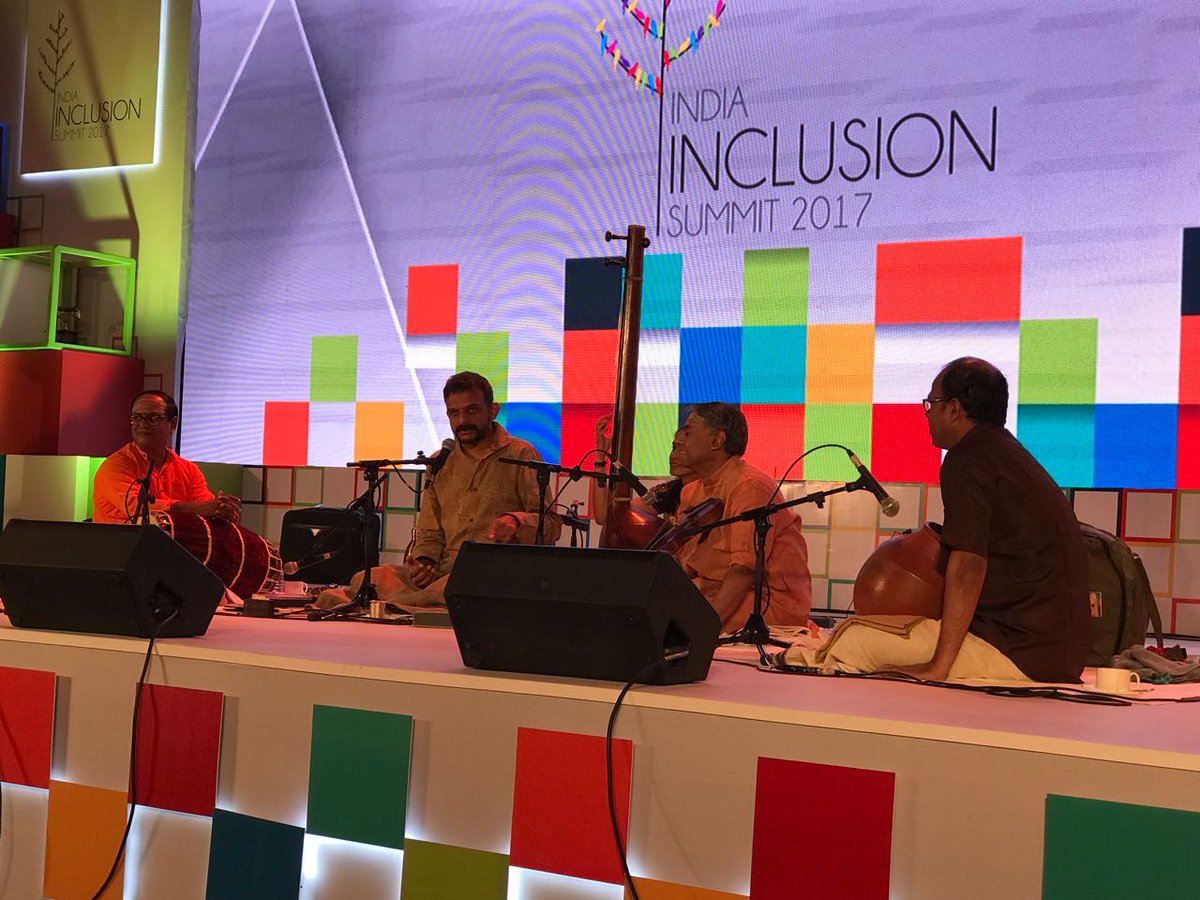 Followed by journey sharing by Shalini Saraswathi.Earlier She introduced Krishna and I did not realize that she was specially abled . Now I  became aware that she holds railing of ramp on her way down and she blogs too. I met her parents over lunch and blown down the way they take care of their daughter. Being parent, my respect grew for her parents grew multi-fold for being rock for their girl.
Is it fear of the situation or helplessness of the situation? Need to accept both.
How do we deal with our scars?
Then, there were a few more inspiring speakers like lawyer with vision disorder and a UPSC officer with bone disorder. I was engaged in their talks where want constraints removed for differently abled people to achieve their potential. Did not take notes.
Believe in your own strength to decide your destiny the way you want.
When we read someone biography, does biography share the challenges and vulnerability undergone by the person?
Followed by heartwarming story from former Senator Tom Harkins, who started with  desire to create inclusion way of life for his brother. He shared how approach to create an inclusive society can start by clearing path for people with special needs, as this actually has power to clear the path for everyone.
Left me with a question to ponder upon at driver-less car beyond loss of job for drivers.
Can driverless cars change lives for disabled people?
Followed by discussion with Kris GopalaKrishnan, who shared insights in to mental health, that led to his drive towards brain research and the reason to start research from India with strength of diversity and push to make cure affordable and also emphasized need to balance with research world-wide.
Sai shared his story starting from being confined to a small room. to become a renowned graphic designer.
Make Sufferings your Surprises, your Surprises will make you Smile, with a Smile who is there to Stop you.
Prashant Kamat, content writer at Mind Tree was next speaker. His sister came along to the stage. She shares that the only regret growing with brother, specially enabled was  "No sibling fights with his brother". Prashant had surprise video from his teacher at Spastics Society Bangalore. Amazed by focused attention of IIS Volunteers.
" The work we do at mindtree is all about inclusion. We are given a lot of freedom in work place to exercise our choices."
Life throws challenges at us. We must keep the faith. Believe in yourself. Only then others can believe in you and ur abilities. Do not be limited by ur constraint s, challenge ur limits.
During lunch, I finished lunch and started to observe arrangement for lunch for specially enabled folks. My curiosity lead me to these learnings.
Their counter was closer to audience, while ours were farther.
Their tables were of lower height to enable person on wheel chair to take their own food with little or no help.
The specially enabled folks have come with their parents or friends who helped them to eat and other activities.
Started to realize why volunteers called multiple times to check whether I needed support for the event. They were showering me with attention and care shown by IIS 17.
Met 22-year-old anchor/dancer/writer Meghana who believes disability isn't merely physical but people with a negative attitude are truly disabled. In crude form, I articulate her optimistic attitude as "I am blind. I cannot see you. It is not a problem. I can dance and make you see me. "
We saw a play hosted by mix of normal people specially enable children. while I was enjoying play, a mother who sat next to me proudly shared of her daughter in wheel chair in the play. She looked too small and thought that the girl should be smaller than my second daughter(10 years). Head 25 years(if i am right). Made me realize what is love and affection of mother towards her child. (My moher died when I was 12 years old)
Heard storyteller, film director Nagesh Kukunoor, share observation that movies focus more to create sympathy rather than empathy for specially abled people, and added how that he choose to direct 2 movies where the movie is a happy story around main actors who happen to be disabled.
Movie needs to be taken based on story and not based on cause, while one can be smart to may be embed the cause inside the story.
Magic happens when one believes. Hope builds when we listen to stories. Stories make us believe that miracles happen with hard work and persistence.
Major Anuradha runs a trust for PWD children in Asthagram, Kurnool in M.P. She did live show of how tribal children can be enabled irrespective of the fact that they are specially enabled. She was sending message that Normal child becomes more sensitive and sharper when they study along with specially abled children.Followed by two entertaining events
Prahalad Acharya who made us to listen and see wonderful stories told through shadows. Thought that shadows comes along with us everywhere and anywhere.
Vasu Dixit, who brought folk-rock to the masses in kannada. IIS 17 event that started with music ended with music.
My blog remains incomplete if I do not thank Leo & Sridevi for live translation of all session. Great job at sign language by Sridevi and Leo.
Finally, I said to myself. All my so called sufferings are nothing compared to suffering of  specially abled children, their parents and families. Hence I need to build resilience in myself.
Talking about our problems is our greatest addiction. Break the habit. Think positive. Talk about your joys.